Paddleboarding is a fun outdoor activity that is regularly enjoyed by residents and tourists in Puerto Vallarta. A great way to exercise while enjoying nature and the ocean at the same time, paddleboarding involves using your arms or oars to propel you forward while either lying, kneeling, or standing on a paddleboard or surfboard in the ocean. Did you know that there is a new exercise trend of practicing yoga aboard a paddleboard? Every Sunday at 9 am in Puerto Vallarta, you can meet in front of Barracuda restaurant in the 5 de Diciembre neighborhood to take a fun and educational standup paddleboard (also known as SUP) yoga class that gives you the best view of Banderas Bay. Once you learn the basics, you will be able to practice by yourself if you are lucky enough to live near or at the beach like Garza Blanca homeowners. Read below to learn more about paddle boarding, and how paddleboard yoga could change your life for the better.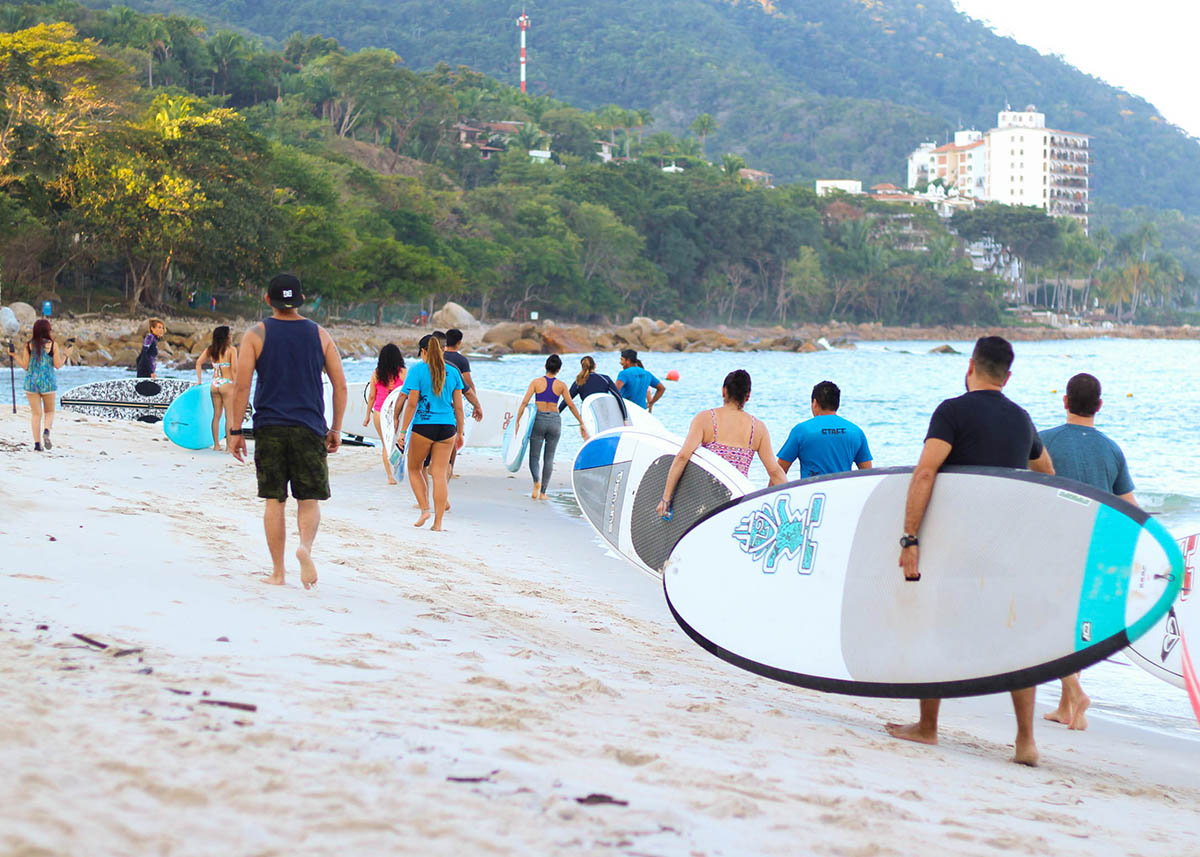 Origins of Paddleboarding
In the late 1920's, Thomas Edward Blake created the first paddleboard while working in the restoration of historic Hawaiian boards for the Bernice P. Bishop Museum. The paddleboard was created when Blake built a replica of the previously ignored olo surfboard that was used in ancient Hawaii. In order to make the board more user friendly, he drilled the board full of holes which he then covered to create the first hollow board which led to creation of the modern, lighter board. While many versions and sizes of a standard paddleboard are available today, the basic principles of Blake's original 1926 design remain relevant.
Rebirth of Paddleboarding
Many years later in the early 1980's, paddleboarding experienced a renaissance in the Los Angeles area when surf journalist Craig Lockwood was inspired to begin production on a high quality stock paddleboard which became known as the "Waterman." His revamped design remains a popular choice today. By adding the practice of yoga into the mix, fitness fanatics can enjoy an unique blend of exercise and tranquility aboard a paddleboard as they practice yoga postures atop their board surrounded by the invigorating ocean waters.
Paddleboard Yoga Class
Want to know where to take a paddleboard or SUP yoga class to get familiar with the process and learn the basics? Every Sunday in front of Barracuda Restaurant in the 5 de Diciembre neighborhood of Vallarta, paddleboard yoga classes are available for $500 pesos or $30 USD which includes your board rental. The paddleboard yoga class is around 90 minutes long, and  post-class shower access and photos make this a fun day for everyone! Make sure to reserve your spot as space is limited. Paddleboard yoga classes are open to all skill levels, but attendees must be able to swim. Wear a wetsuit or comfortable gear that will allow you to practice yoga comfortably.
For Garza Blanca homeowners, paddleboards are available for rent right on the private beach in front of the property. Imagine being able to head out and find inner peace as you enjoy a quiet moment practicing yoga atop a paddleboard surrounded by the salty ocean breezes and warm sun rays. It certainly sounds like a great way to incorporate both yoga and nature into a fun and unique activity. As a Garza Blanca homeowner, this could be your wake up call every day.  Embrace the beauty of the Banderas Bay and center yourself with the healing power of yoga as you effortlessly drift on the water atop a paddleboard. What better way to live life to the fullest and take advantage of living in paradise! Contact Garza Blanca today to see what beachfront luxury real estate opportunities are available for you.