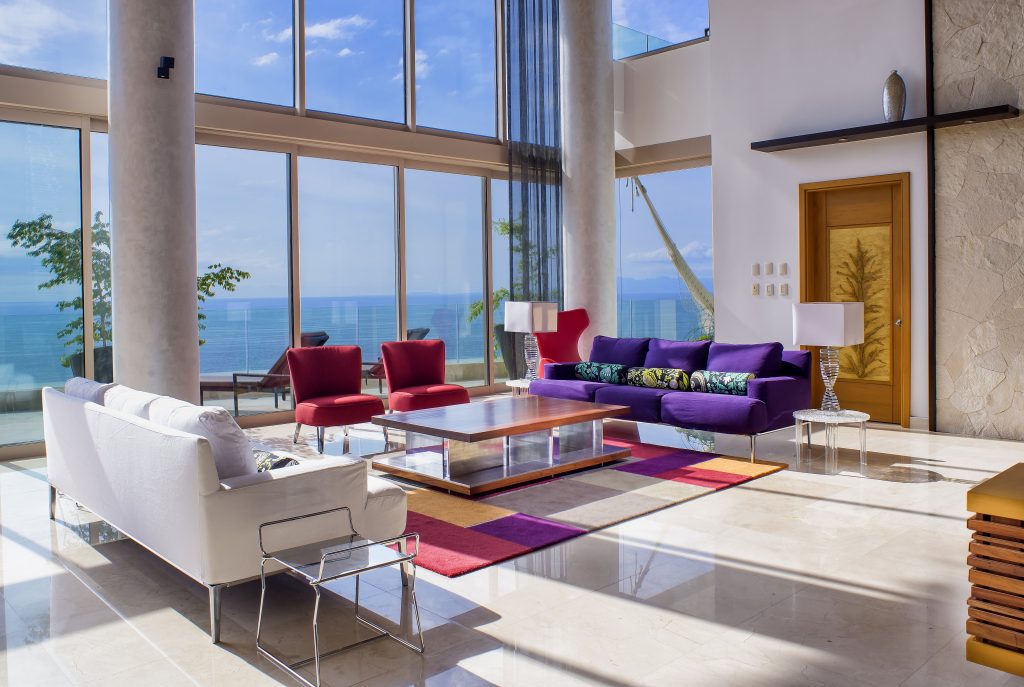 Do you want to make your dreams a reality? Are you in the market for PV luxury real estate? If so, the hottest ticket in town is Garza Blanca signature residences located just south of downtown Puerto Vallarta. Private beachfront residences are beautiful and solidly constructed. Residences offer homeowners spectacular Banderas Bay views, too. Plus, homeowners enjoy premiere access to world class amenities and resort services, too. Do you want a dream vacation home where you can be pampered like a queen or king? If so, keep reading below about Garza Blanca's Grand Penthouse. It's the top choice in town for elite investors who want to live the PV luxury lifestyle. 
PV Luxury Real Estate: Garza Blanca Grand Penthouse
With over 6000 square space, the Grand Penthouse at Garza Blanca is in a class all its own. Nestled amongst the lush Sierra Madre jungle hillside, the residence has spectacular ocean views of Banderas Bay. Likewise, the desirable indoor-outdoor living concept allows you to bring the outdoors inside with you. Plus, dramatic floor to ceiling glass doors lead out to a massive wraparound terrace that can be accessed from the dining room, living room and Master Bedroom Suite. Homeowners will love fully opening up the impressive sliding doors to invite nature inside. This helps create a harmonious open concept environment that reminds you what living in paradise is all about. Plus, the property has quick access to a pristine and private beach. That means that a quick dip in the ocean is just steps from your front door.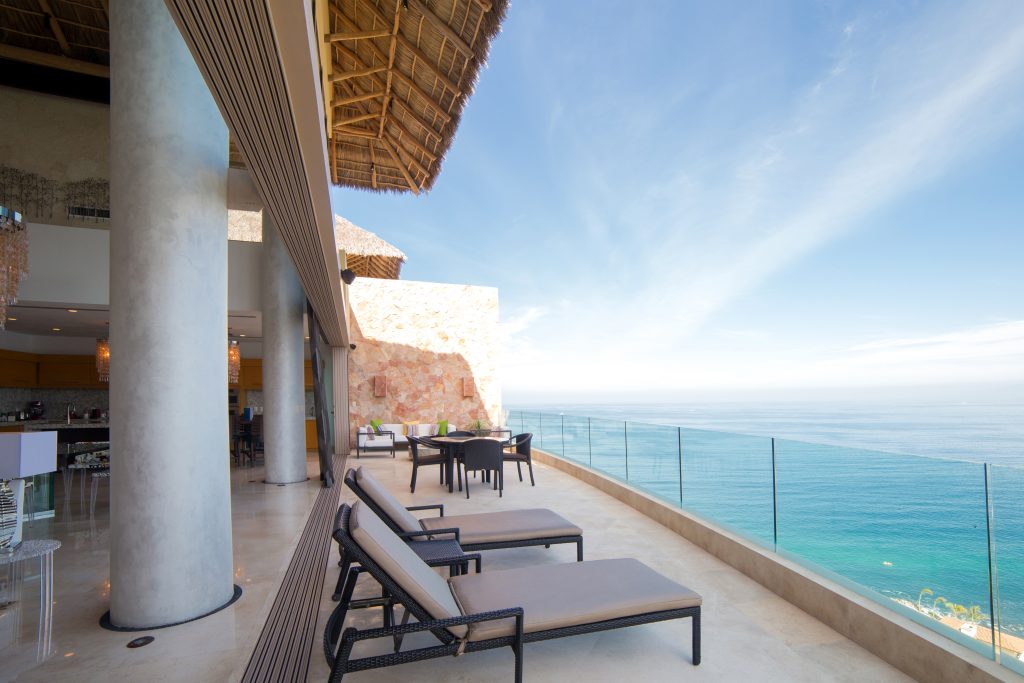 Solid Construction and Contemporary Design
Chic contemporary design makes the stunning condominium breathtaking. Likewise, the magnificent high ceilings are impressive.  Plus, the developer of the property is Tafer Hotels & Resorts which builds luxury real estate in Mexico. They develop solidly constructed residences, high quality finishes and upscale furnishings. Solid amapas hardwood finishes, modern decor, and impressive 10 foot ceilings create a sense of decadence that every luxury homeowner loves. The living and dining rooms are very spacious and located directly off of the wraparound terrace with ocean views.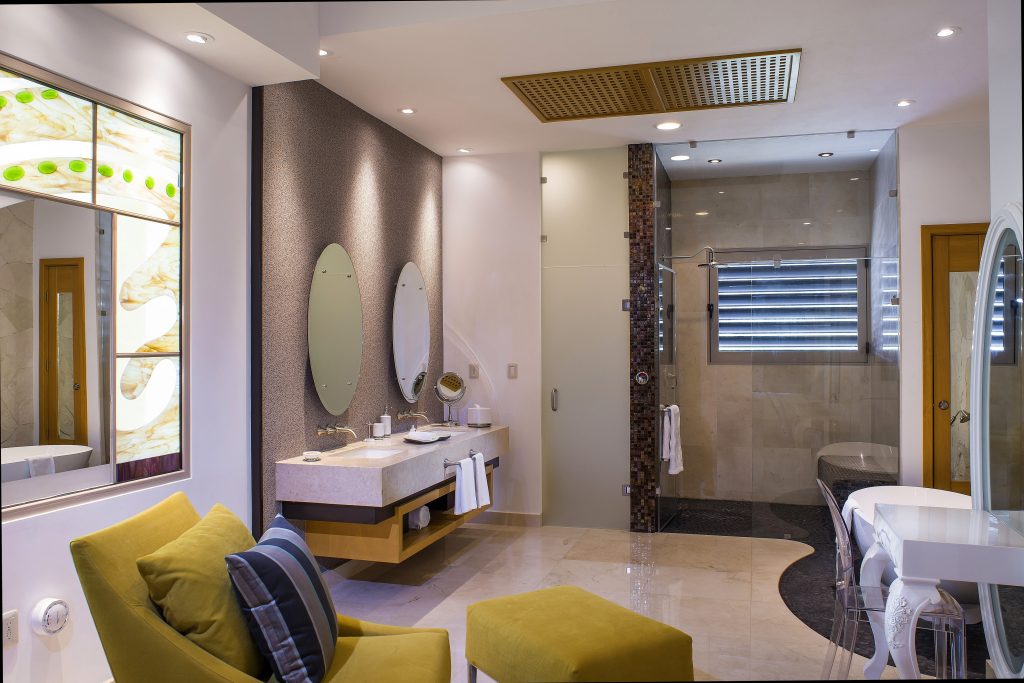 Palapa Roof Kitchen and Fine Finishes
The palapa topped kitchen has high quality granite counters and an oversize island perfect for preparing meals. Appliances are top of the line and include a double-door 24 cubic foot stainless steel refrigerator, purified water and ice dispenser, high end electric stove, oven, dishwasher and wine cooler. Next, the living room and dining areas are large and comfortable. Plus, a full master bedroom and guest bedroom with ensuite bathroom are located on the first level.  Upstairs, the unique duplex style Grand Penthouse has a second master bedroom. Lastly, a bonus space and laundry room are conveniently located off the upstairs Master Bedroom, too.
Spacious Beachfront Residences for Sale
There are a limited number of beachfront residences available for sale. Right now, an Oceanfront Penthouse, 2 Bedroom Beachfront, 3 Bedroom Beachfront, and 3 Bedroom Panorama Residences are available for purchase.  Also, owning a home at Garza Blanca includes access to luxury amenities and services.  There are various floor plans available and each bedroom comes with its own private en suite bathroom. In the Grand Penthouse, there is a lovely half bathroom located near the front door for guest use. Bedrooms come with comfortable King sized beds, flat screen TV's, ceiling fans, air conditioning and luxury-count linens. In addition, walk-in closets are spacious and designed well. The elegant bathrooms contain only the finest finishes, elegant details and dual vanities, too.
To conclude, if you want PV luxury real estate, Garza Blanca's Grand Penthouse is the ticket. Do you want to invest in the most exclusive beachfront community in Puerto Vallarta? If you do, contact Garza Blanca's professional real estate team today to schedule a private viewing. Simply put, there is no better address in PV than Garza Blanca.