Garza Blanca Real Estate is excited to report on the progress of two new Garza Blanca resorts in the works in Los Cabos and Cancun, due to open in 2018.
New Garza Blanca Resorts for 2018
Following the tremendous success of Garza Blanca Preserve Resort & Spa, the award-winning luxury resort found in Puerto Vallarta, Mexico, Tafer Hotels & Resorts is expanding its collection with two breathtaking new properties: Garza Blanca Los Cabos and Garza Blanca Playa Mujeres in Cancun, which are both on track to open during 2018.  These brand new luxury resorts will be conveniently located within easy reach from international airports that have direct flights from many major Cities — Cabo San Lucas International Airport and Cancun International Airport respectively. 
5-Star Expectations
These 5-Star resorts are currently in the construction phase and are beginning to truly take form.  They will offer the same level of distinctive chic and lavish environments that the Garza Blanca brand has built its reputation on in Puerto Vallarta, now expanding to two new locations in Los Cabos and Cancun.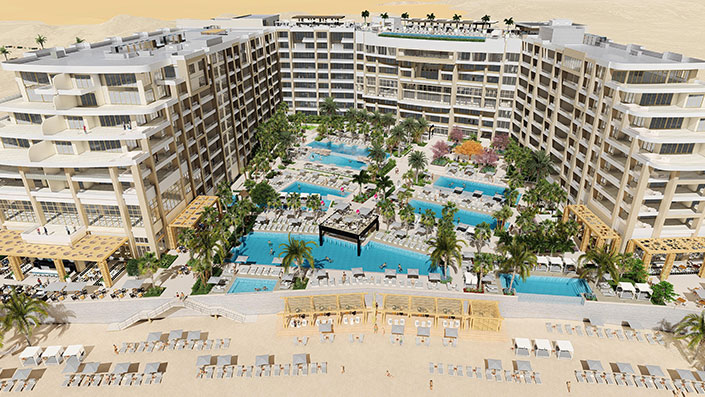 Chic design inside and out
Both new resorts will be home to splendid designs both inside and out, with inspiration being drawn from each unique surrounding landscape: a distinctly desert-ocean influenced atmosphere for Los Cabos and a Caribbean vibe for Cancun.  Besides the breathtaking accommodations the Garza Blanca brand is known for, you can also anticipate a variety of fine gourmet cuisine, a world class spa and tremendous service at each of these opulent new properties.
Exceptional Interiors
Although the interior design details for each resort are still highly guarded for now, there is no doubt that any resort bearing the name Garza Blanca will amaze and delight its guests with stylish sophistication throughout, including tasteful furniture and special touches that will make you feel at home.  The design team has put their creativity to the test with thoughtful designs that reflect the gorgeous landscapes that surround each unique resort when creating the looks for every space, from suites and residences, to restaurants and common areas.
To learn more about the progress of Garza Blanca Resort & Spa Los Cabos (which will be the first of the two new resorts to open in 2018) visit the following website:
Garza Blanca Los Cabos – http://cabo.garzablancaresort.com/